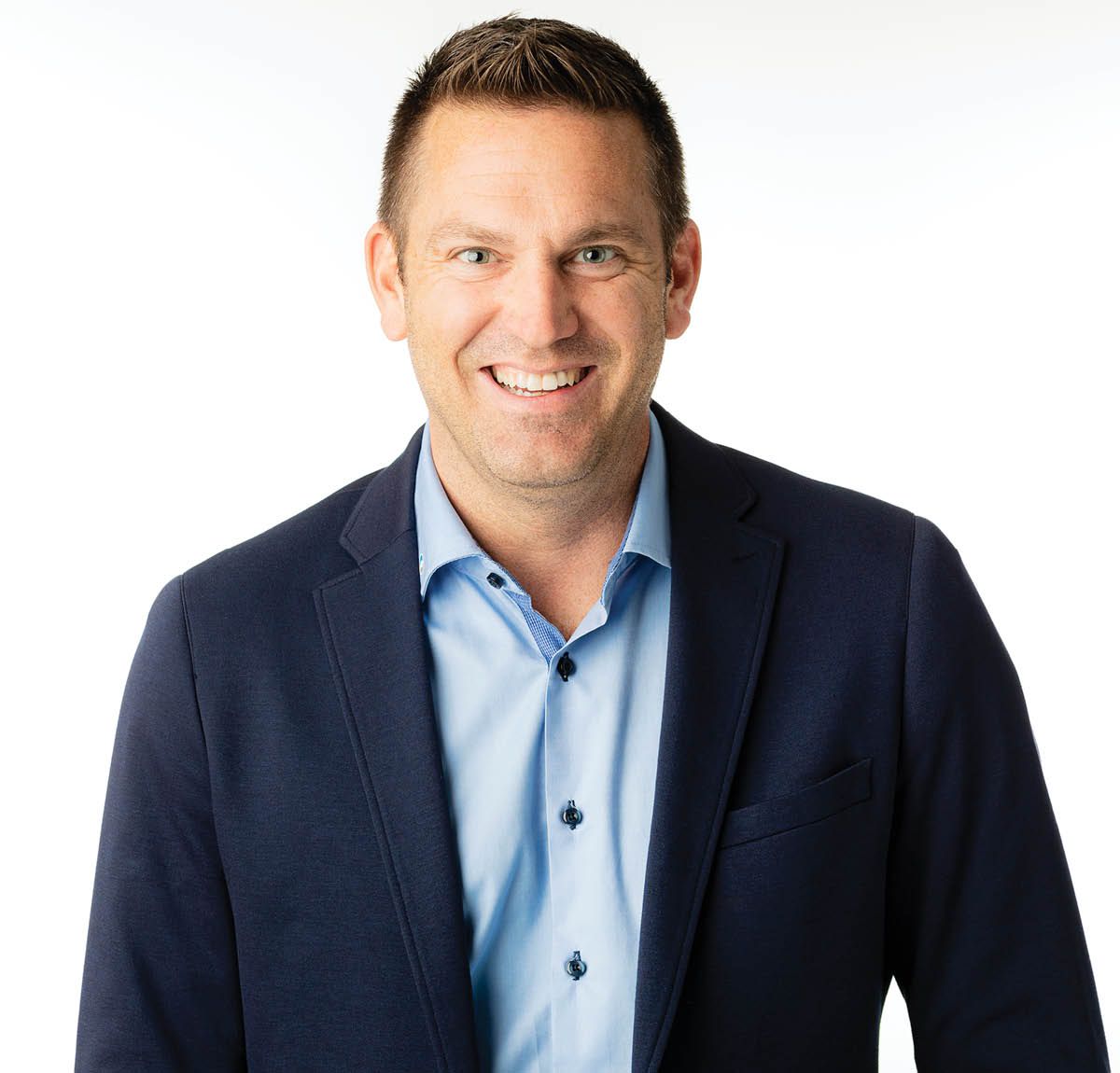 Yvan Laflamme, President
Passionate about everything he undertakes, Yvan Laflamme is the company President and co-founded Atlas Medic with
Côme Bouchard in 2001.
Yvan and his team have constantly improved their operations process, while being focused on the idea that every decision they make can help their customers become more efficient and effective.
His entrepreneurial and organizational expertise makes him someone others want to initiate projects with, share professional experiences that strengthen the community knowledge, and enjoy professional comradery.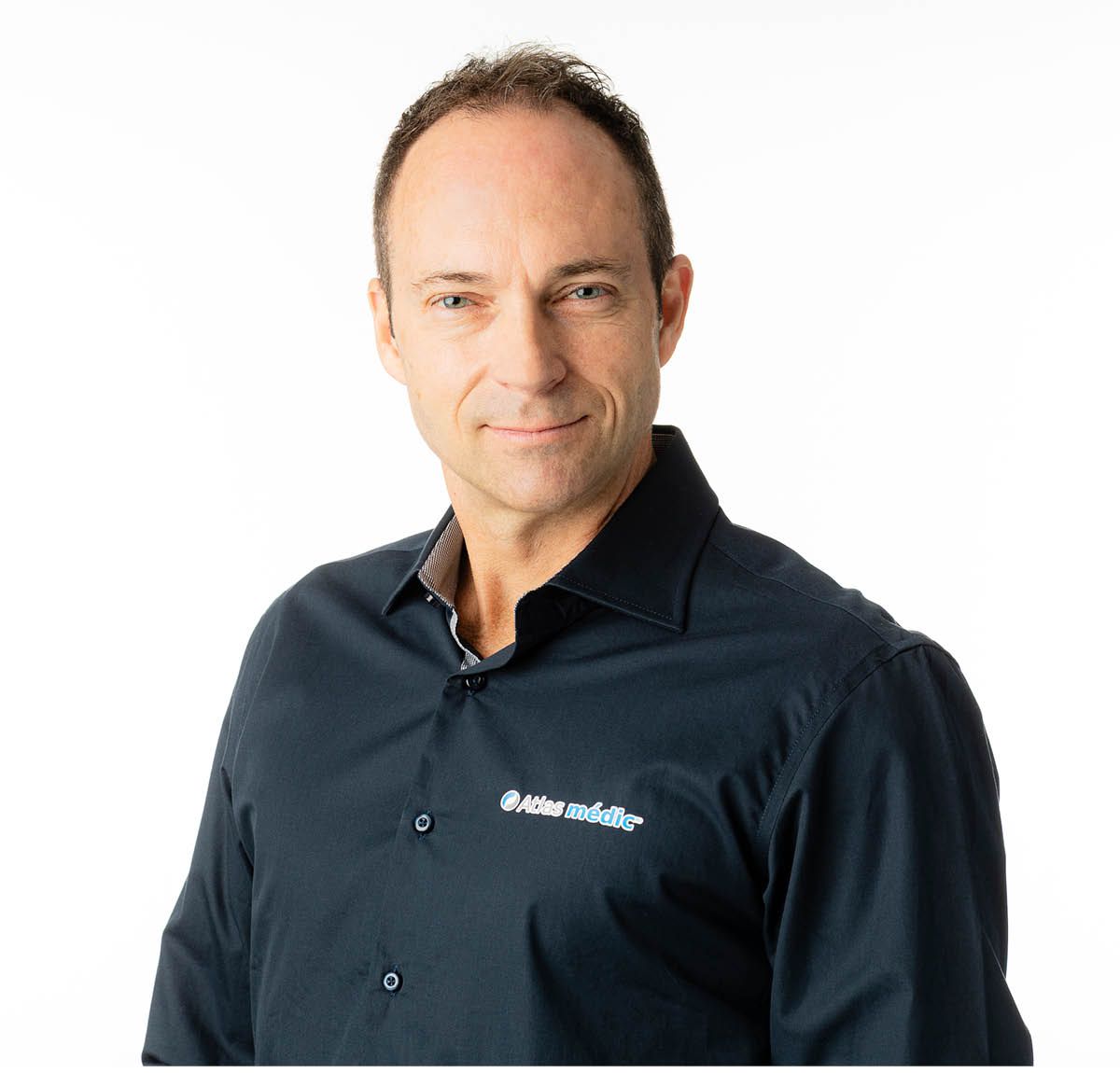 Come Bouchard, Vice-President
Côme co-founded Atlas Medic with his trusted colleague Yvan Laflamme in 2001. His academic background, research experience, engaging personality, dynamism and his communication skills make him an important resource person in the industry.
He is proud of the fact that he has sold, installed and trained almost every customer in Quebec and Canada who has purchased equipment from Biodex in recent years. His expertise in concussions, fall prevention, sports training or adapted training makes him a valuable reference in Canada.
Côme's achievements and the influence Atlas Medic has had on the industry speaks for itself. With his associates, Yvan Laflamme, Anne Ouellet and Philip Lacoste, he has built a passionate team that continues to be committed and loyal to its customers and their satisfaction.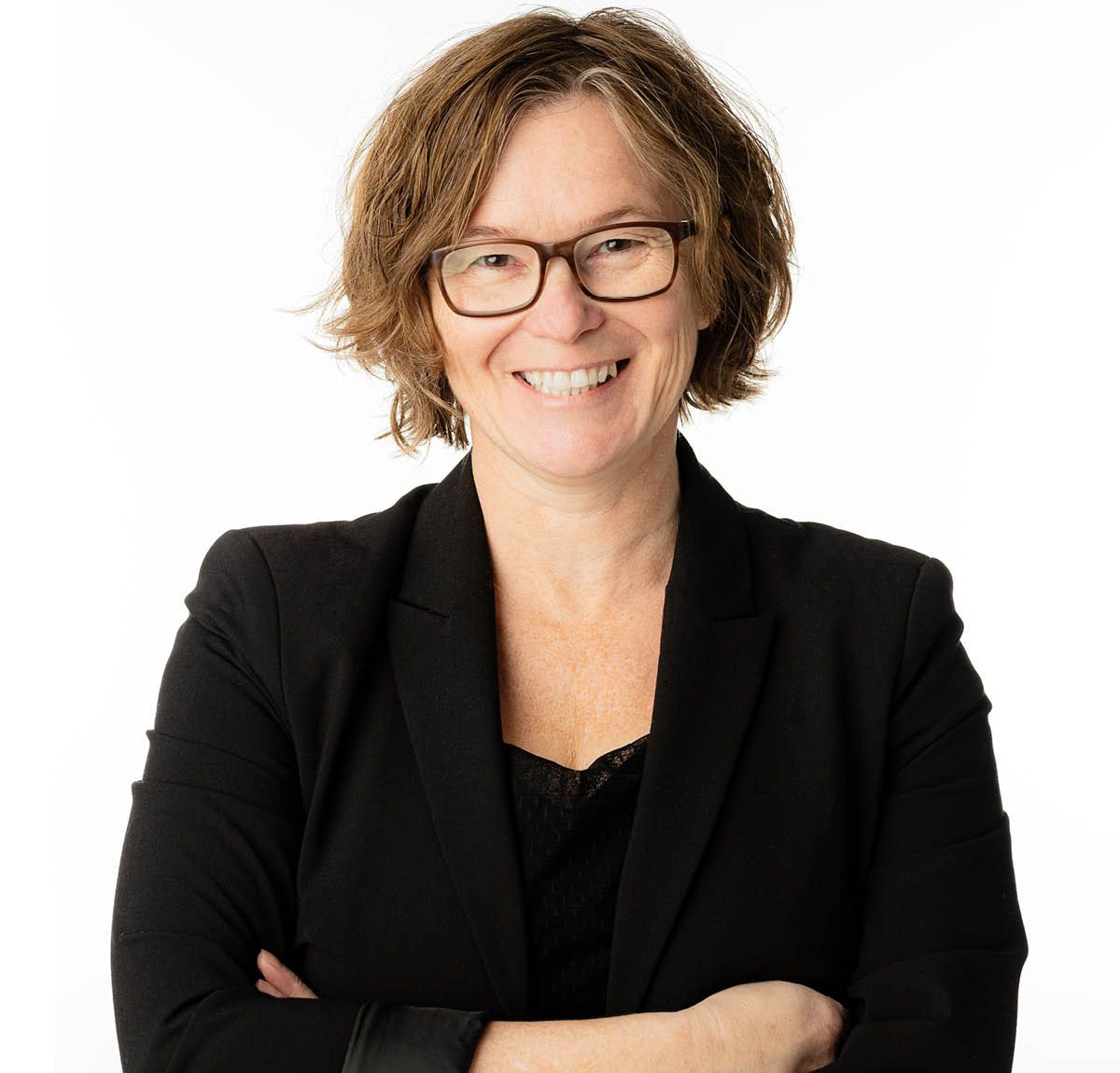 Anne Ouellet, Chief executive officer (CEO)
Who has never spoken with Anne when calling Atlas Medic? A true people person, she is constantly striving to provide the most pleasant customer service experience. She is always aware of our customers' needs, with the goal of advising them in the best possible way.

Appointed CEO in June 2019, she ensures that each department is comfortable with its tasks. You can often hear she saying "You're OK?" around the office, ensuring that everything is running smoothly! Multitasking, attentive and efficient are qualities that personify her presence.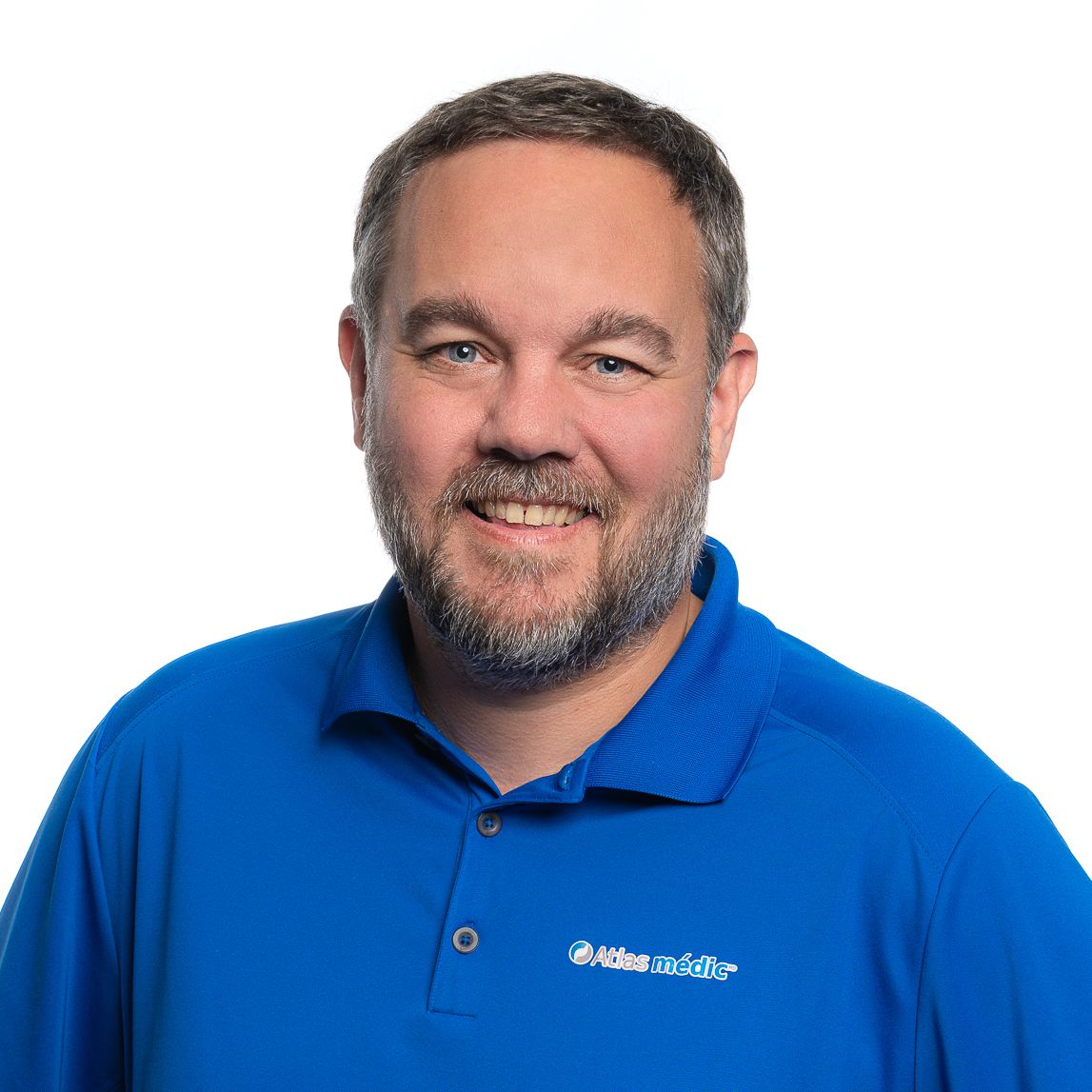 Philip Lacoste, Chief technology officer (CTO)
Difficult to define my role in this awesome company! For the title my main responsibilities are related to technological integrations in the organization. In fact, I have a much more difficult and rewarding job. I'm a real Data Squiddly Diddly, responsible for Business Intelligence and Big Data. In addition, I am involved in technology watch, strategic sourcing, process optimization, quality control and change management.
In my "free time" I am in charge of the project for the implementation of a new ERP system and the deployment of a new version of our website. I really like improving working life and supporting my colleagues by incorporating innovative and efficient technological solutions. My colleagues are exceptional by their openness and their support for the craziest projects!

Communications and events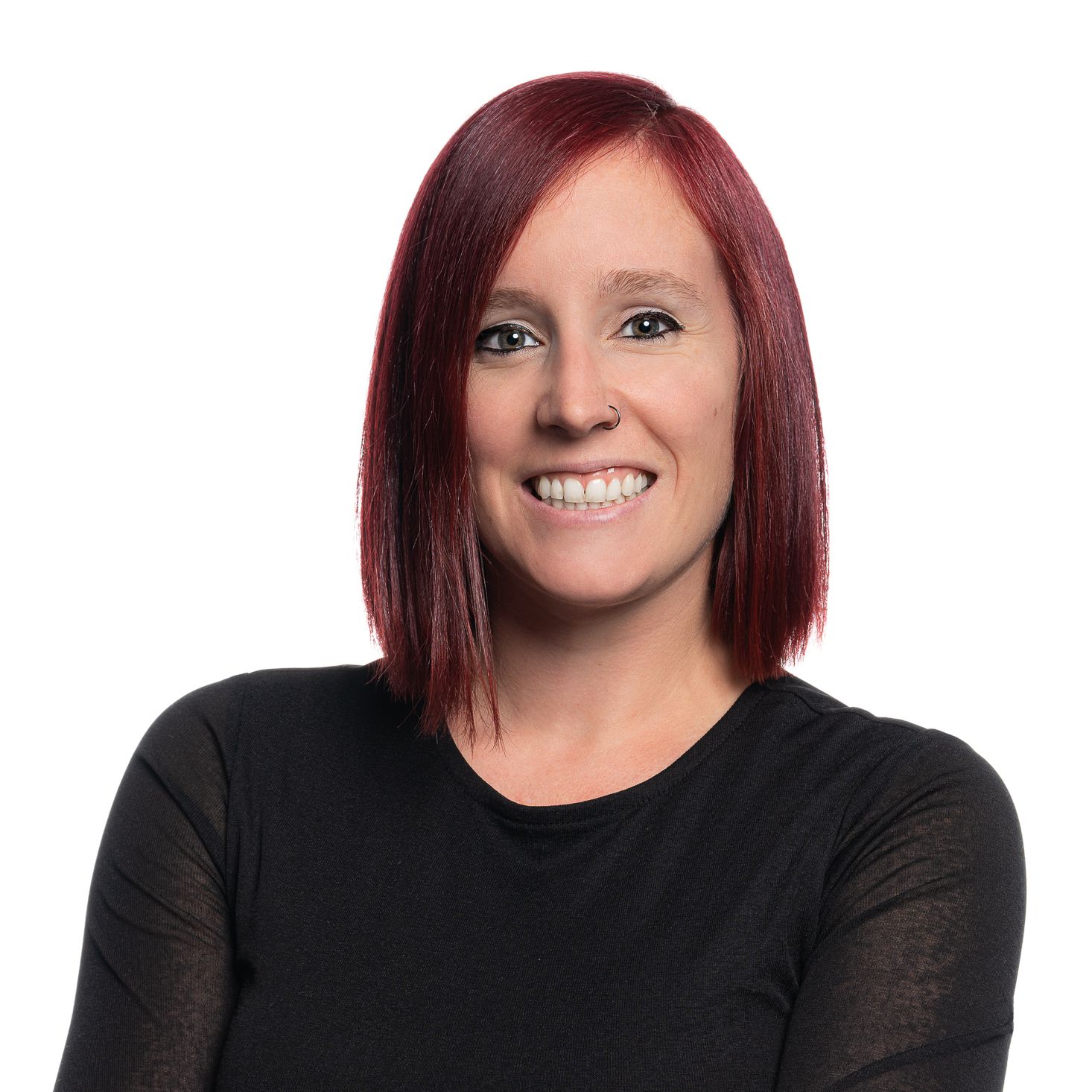 Sarah-Eve Gauthier, Continuing Education and Social Media Coordinator

Sarah is a dynamic and a motivated person who has the capacity to be able to adapt herself easily. She also has a facility to communicate with others. With a bilingual college degree in tourism and an event project manager certificate Sarah put all her knowledge in the training program of Atlas Medic. She's passionate in everything she does so she's not scared to take initiative for the good of the business. Her favorite sentence is: What we can do to be better next time. She loves running (street and trail) She has a lot of energy! It's a pleasure for her to be part of the Atlas Medic crew.

Accounting and administration



Marie-Joëlle Amakou, Head Accountant
With a Bachelor's degree in Accounting and Human Resources, Marie-Joëlle is proud to put all the knowledge she acquired during her university years to work for the company.
She acts as the right-hand woman of the chief accountant, without forgetting the many administrative tasks that she carries out daily in a cheerful manner. Originally from the Ivory Coast, her warmth and good humor are always present when she is asked to help. It is always a pleasure for her to come and work in an innovative and stimulating environment.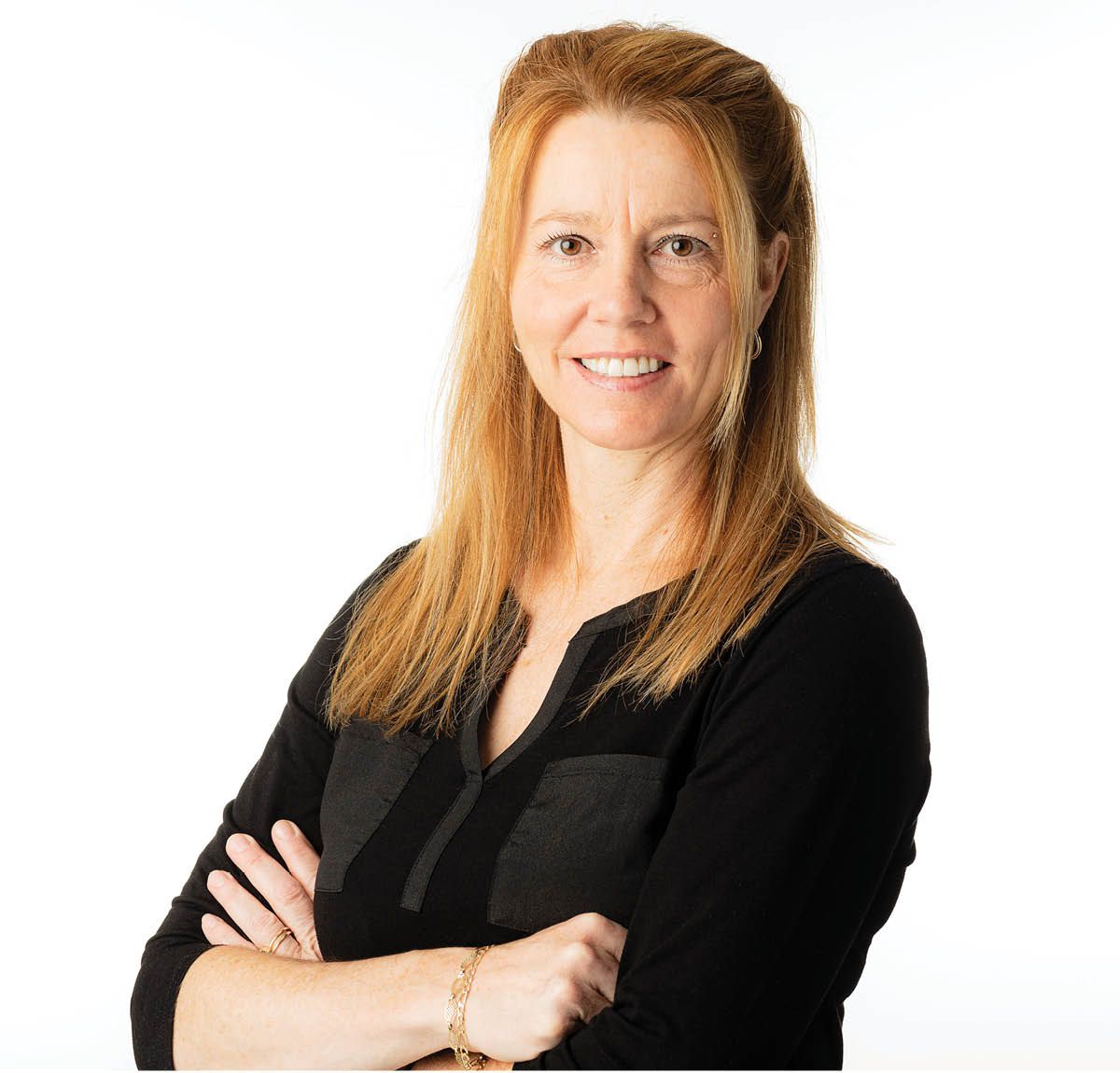 Maude Gauthier, Administrative Assistant
Diligent and dedicated to her work, Maude reflects the importance that our team places on Atlas Medic's success. Passionate about accounting, she is always attentive to details and the accuracy of numbers.
Her main role is to support the Accounting and Customer Service Departments.
Veronique Delteil,
Chief operations director (COO)
An experienced sales professional, Véronique became a member of the Atlas Medic team because of her dynamism, her ability to look towards the future and her team spirit.
She is always available for her colleagues and ensures that operation standards are well respected. With her friendly and communicative laugh, her positive energy is just one of the reasons our team loves working with her!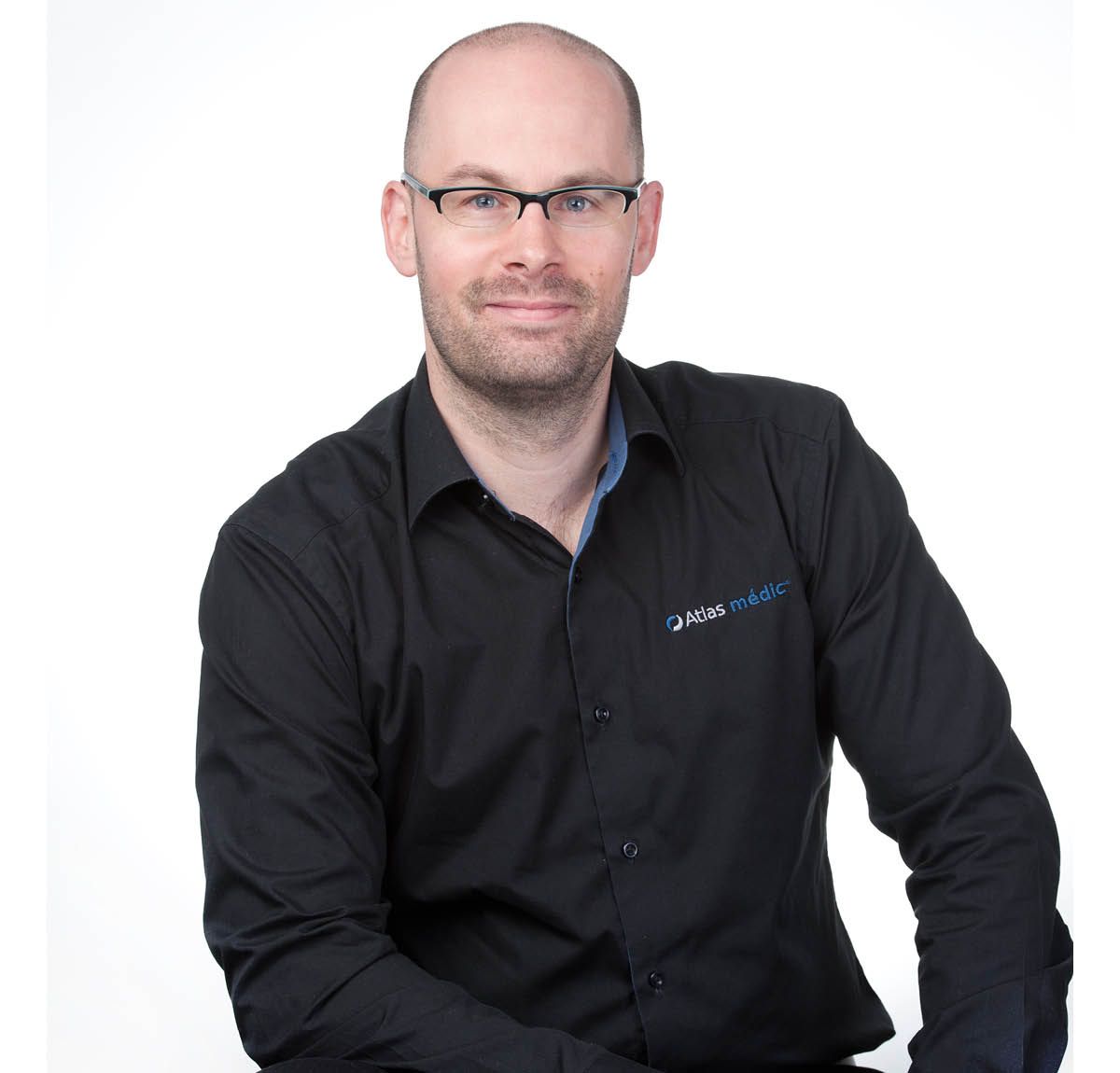 Eric Kasprak,
Sales consultant
With his tongue-in-cheek humour, Éric quickly makes customers feel at ease. He is always ready to take the time to respond to his customers' requests and questions.
Whether it is to replace a device, buy a new product or place an order for your business or organization, his goal is to make your work easier. Éric's experience, knowledge, personality and enthusiasm for working at Atlas Medic all come out in the quality of his interactions with our customers.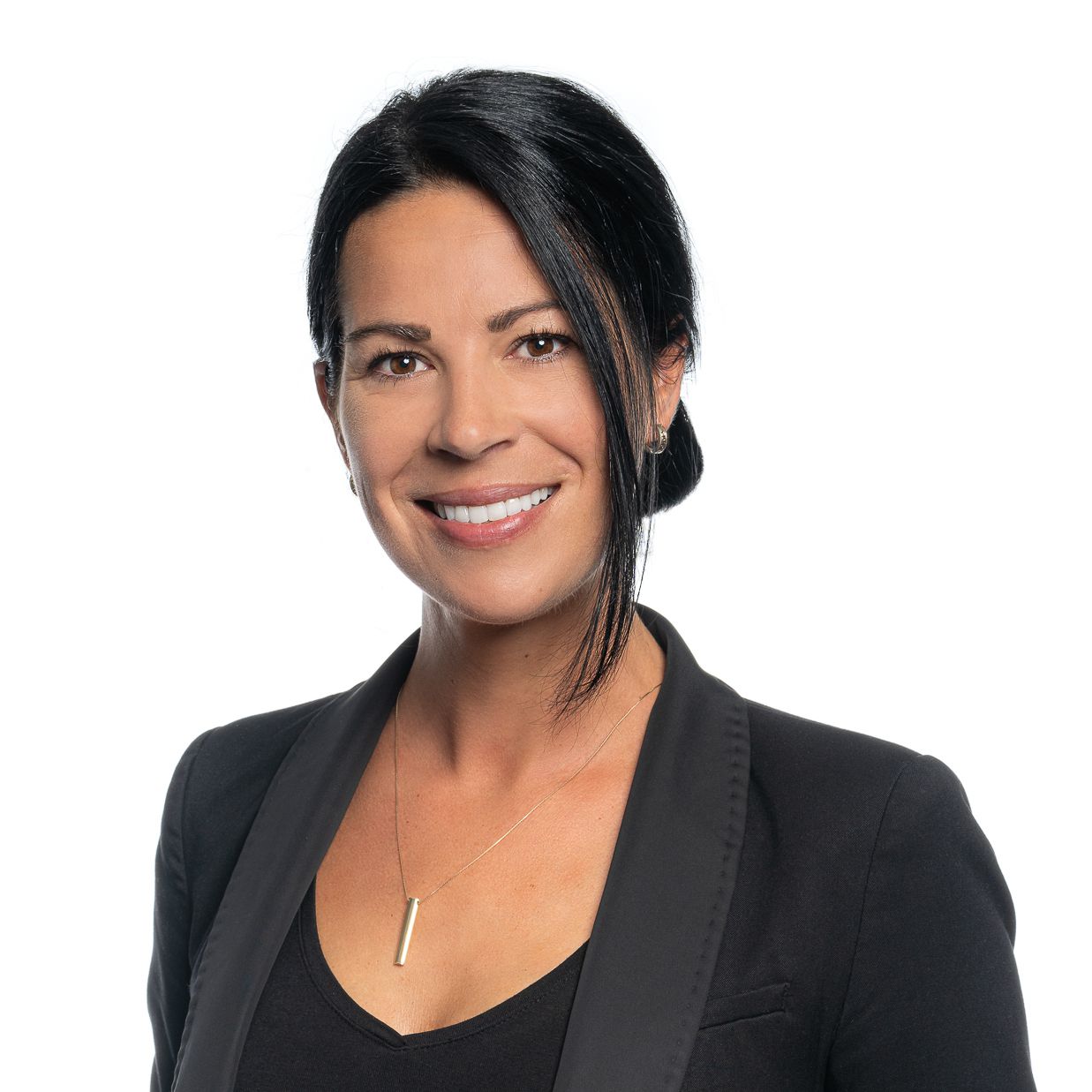 Stephanie Carter,
Sales consultant
After working for 8 years in the physiotherapy field, Stéphanie joined our team, which quickly became a second family to her.
Her job is to inform you about Atlas Medic's products and equipment, and above all to be attentive to your needs and put her knowledge at your disposal to help you achieve your goals.
At Atlas Medic, we always advise our customers in a way that best suits their situation, with no sales pressure!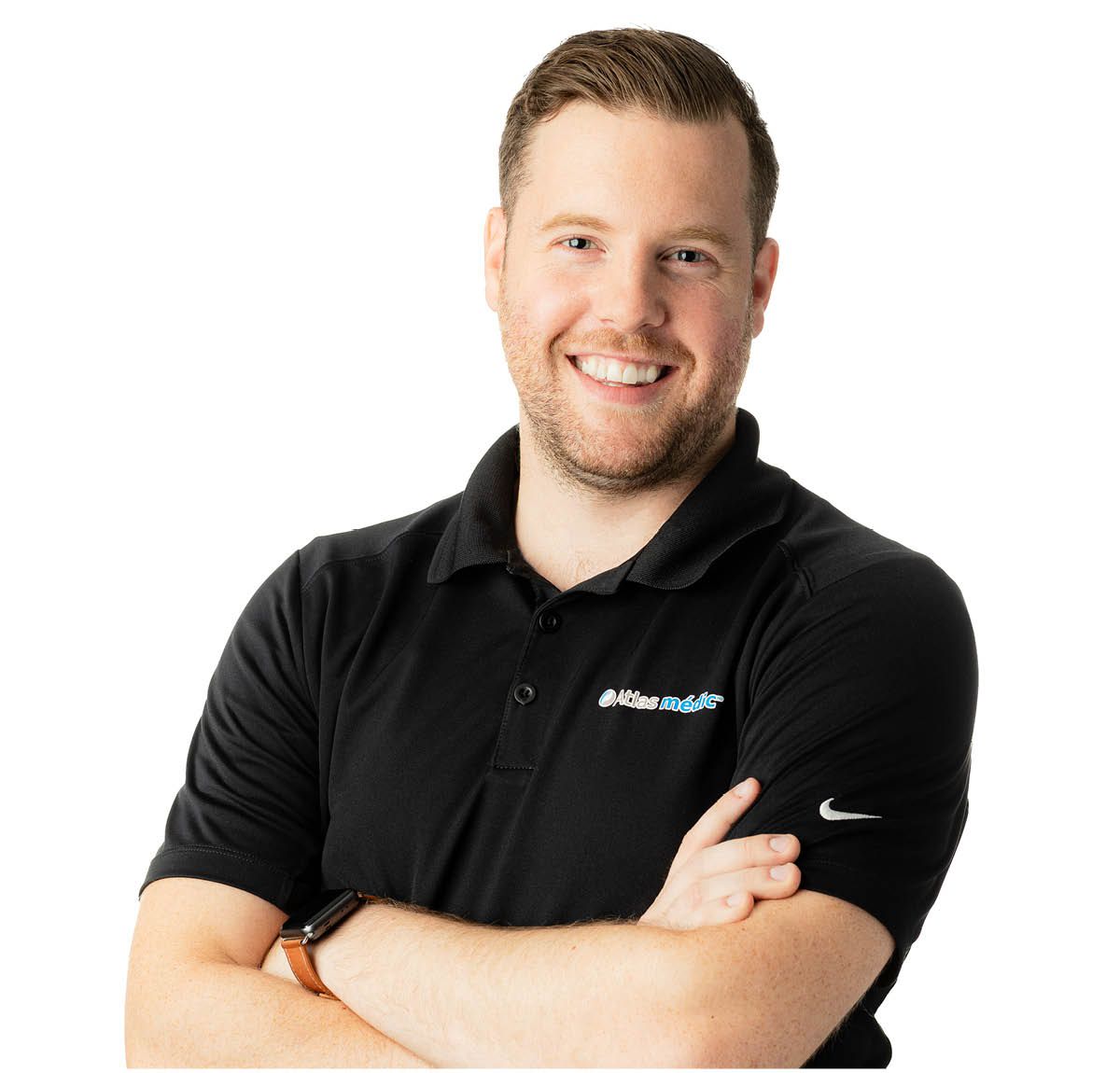 Guillaume Cote,
Sales consultant
Passionate about physical rehabilitation, Guillaume studied physiotherapy and occupational therapy. With an interest in the art of sales, he joined the Atlas Medic team after perfecting his skills.
Guillaume takes great pleasure in being part of your projects, no matter their size or complexity! Attentive to your needs, he is transparent and honest, can equip you in the best way possible and provide health professionals with industry knowledge.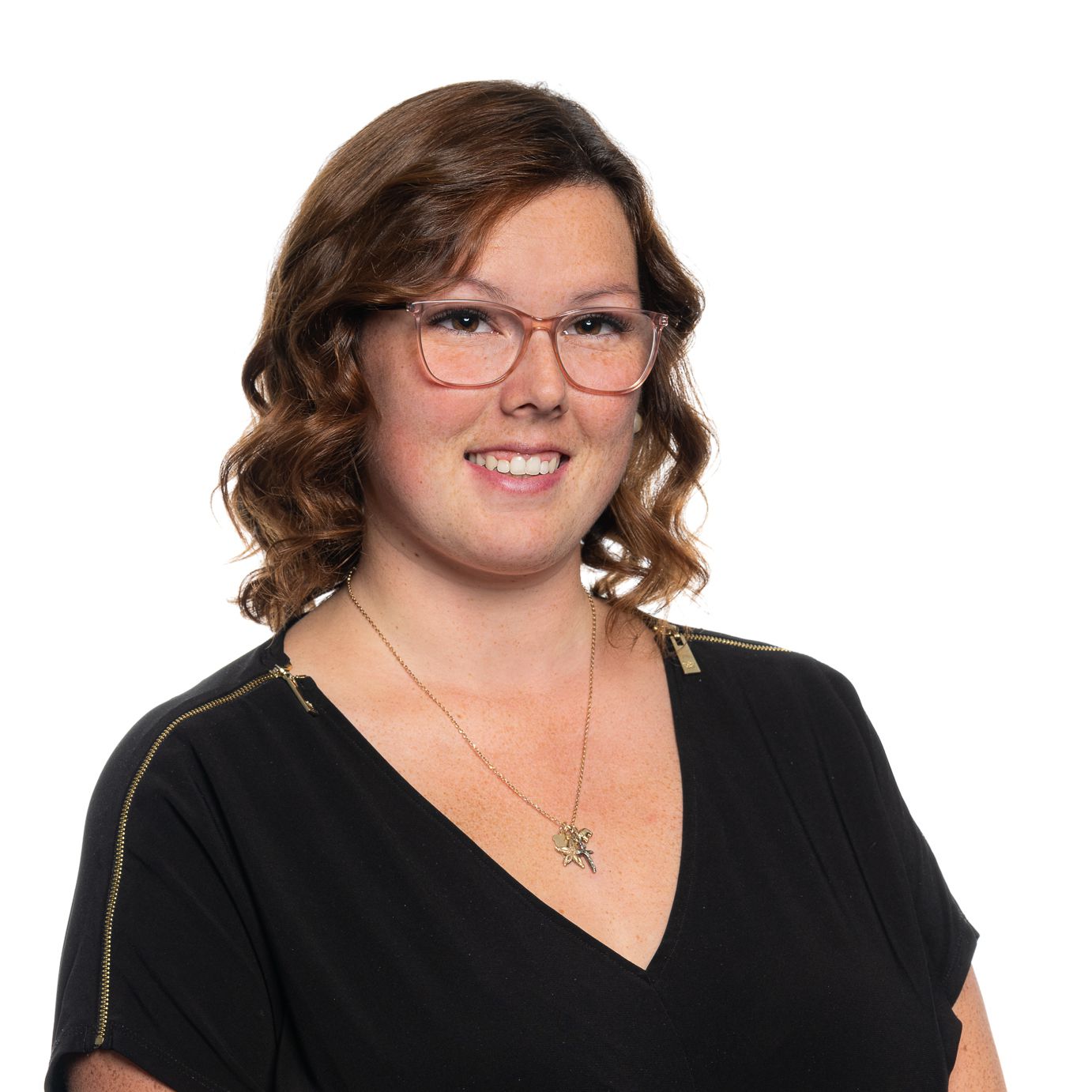 Jessie Vigneau, Administrative Assistant and Sales

Mon rôle dans l'entreprise est d'offrir un excellent service à la clientèle, d'entrer les commandes etMy role in the company is to provide excellent customer service, supplier order preparation and order follow-ups, customer orders, quotes and accounting.

I am a very determined, social, multi-task person. People describe me as very cheerful, smiling, full of energy.
I describe myself as a ray of sunshine in people's lives.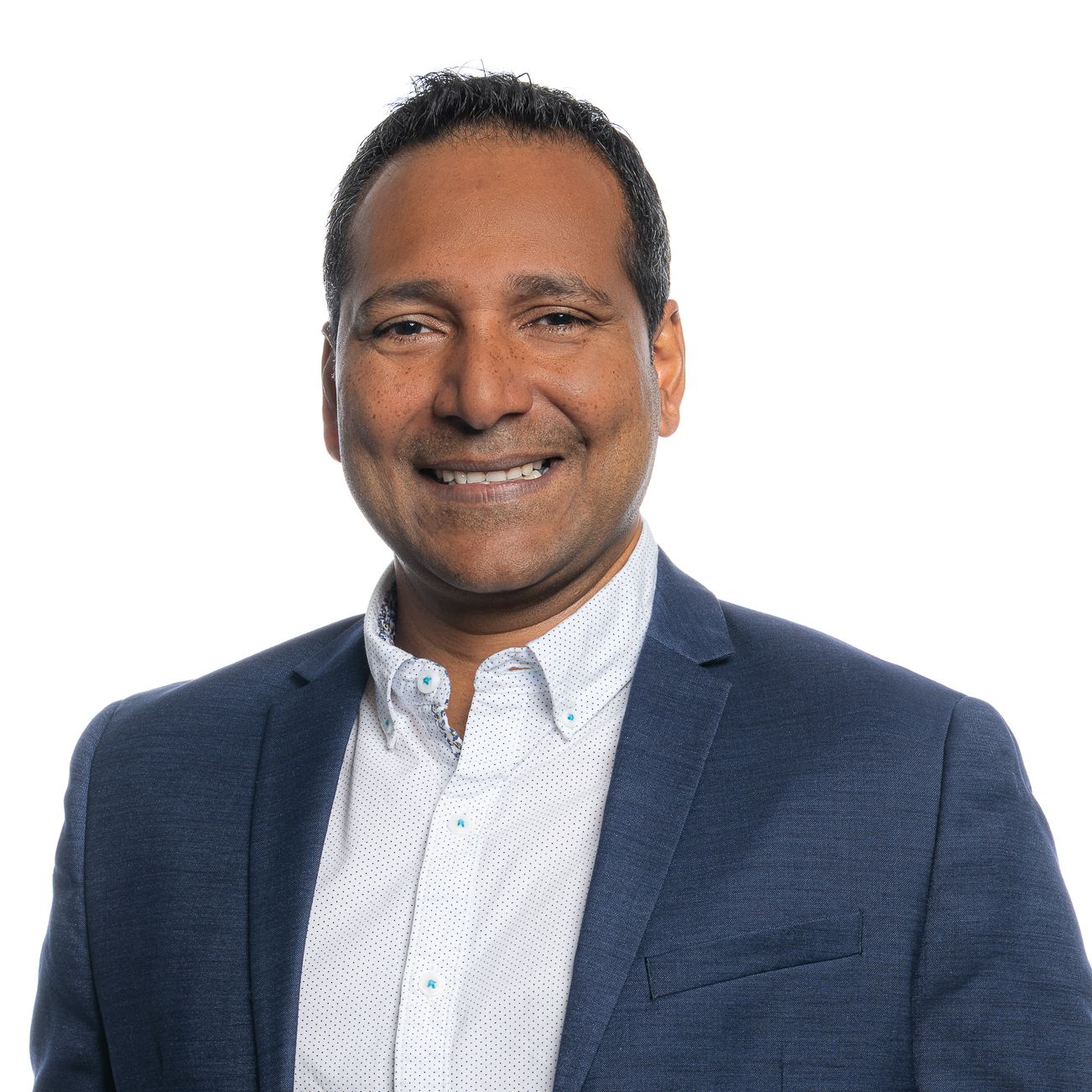 Shezad Soyfoo,
Sales consultant

During his managerial career in Sales and Business Development, Shezad has acquired many skills and much knowledge in big corporate companies.
Dynamic, with excellent organizational skills to successfully manage several projects simultaneously. Shezad is good at building strong customer relationships and has excellent listening skills. Recognized for his leadership, his pragmatism, his empathy and his dedication to find solutions to help health professionals and business partners achieve their goals.
Shezad is always in a good mood, is a team player, enthusiastic to take up new challenges and loves his job. Motivated to engage on projects and to work in unison to exceed the goals and objectives of Atlas Médic that shines at the national level and to be proud of every single effort.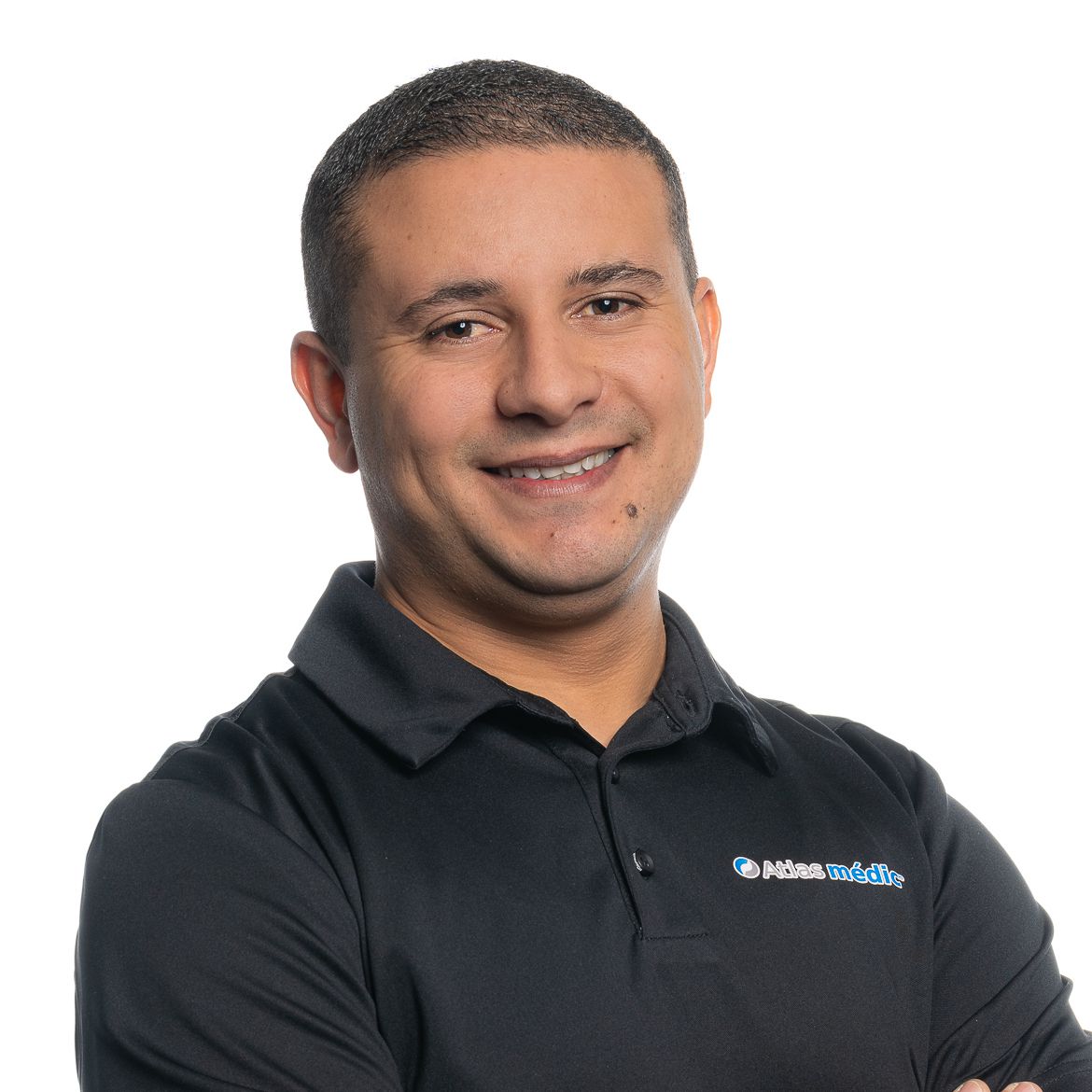 Aymen Saidi,
Biomedical equipment technician (BMET)

Having spent more than fifteen years in the field, I am a biomedical technician, I am part of the technical department of this wonderful Atlas Medic.

Gifted with electronics and computer systems applied in medicine, I make available my knowledge and skills acquired theoretical as well as practical to guarantee technical performance with respect to the understanding of customer requirements and professional duty. With great love, I exercise this adorable profession, with great rigor, accompanied by an extraordinary team on the alert to intervene to diagnose, repair... I really like to enter into technical challenges with all the possible complications. My only duty it is "to live up to expectations"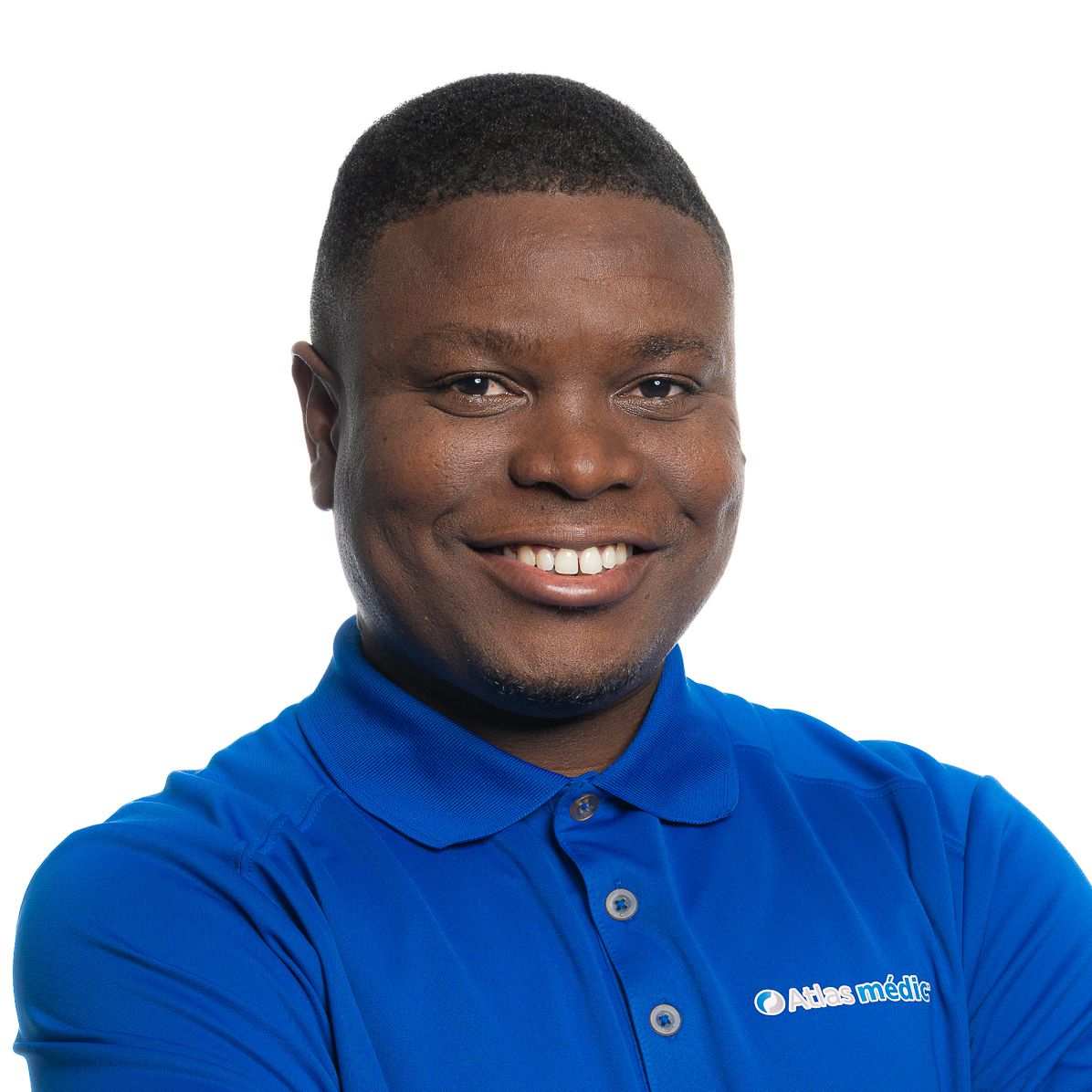 Arsene M'Boua,
Biomedical equipment technician (BMET)

My choice of career in Biomedical was confirmed during my first internship in a company. Freshly graduated in Electronics and English in 2009, I was rather passionate about computer science, but doing this internship in the biomedical field has completely changed my ambitions because I fell in love with this job so exciting and rewarding.
I consider myself as the Doctor of machines. I feel a certain pride to contribute in my own way to improve the health of the patients by my technical prowess.
After 9 years of experience punctuated by several trainings in Europe, China and Africa, I am currently fortunate enough to work for a company as important as Atlas Medic where my role is to perform repairs and installations of medical equipment in the workshop and in the field.
Today I am part of an extraordinary company composed of exceptional collaborators and together we form a team that has everything to succeed and meet the various challenges.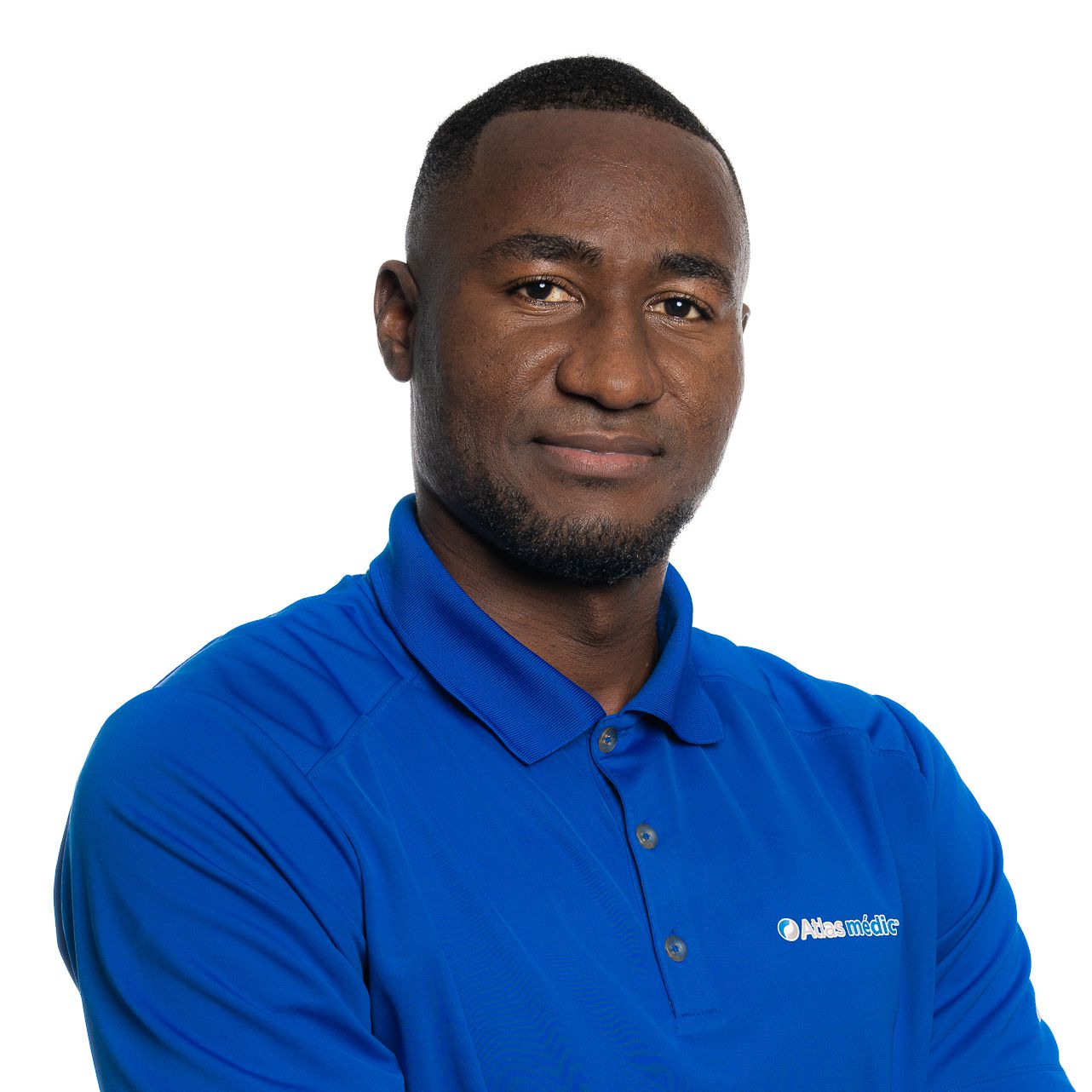 Celestin Degueula,
Biomedical equipment technician (BMET)
Motivated, dynamic and meticulous, Celestin joined the team as a medical equipment maintenance technician. As a technical solution agent, his objective is to correlate the values he shares, namely abnegation, efficiency and proactivity to provide quality technical service to our valued customers. Attentive to the various demands of his colleagues and our customers, he promotes team spirit and he is continually active in the search for technical solutions. If you need a technician for a technical intervention, the "Lion" is at your disposal.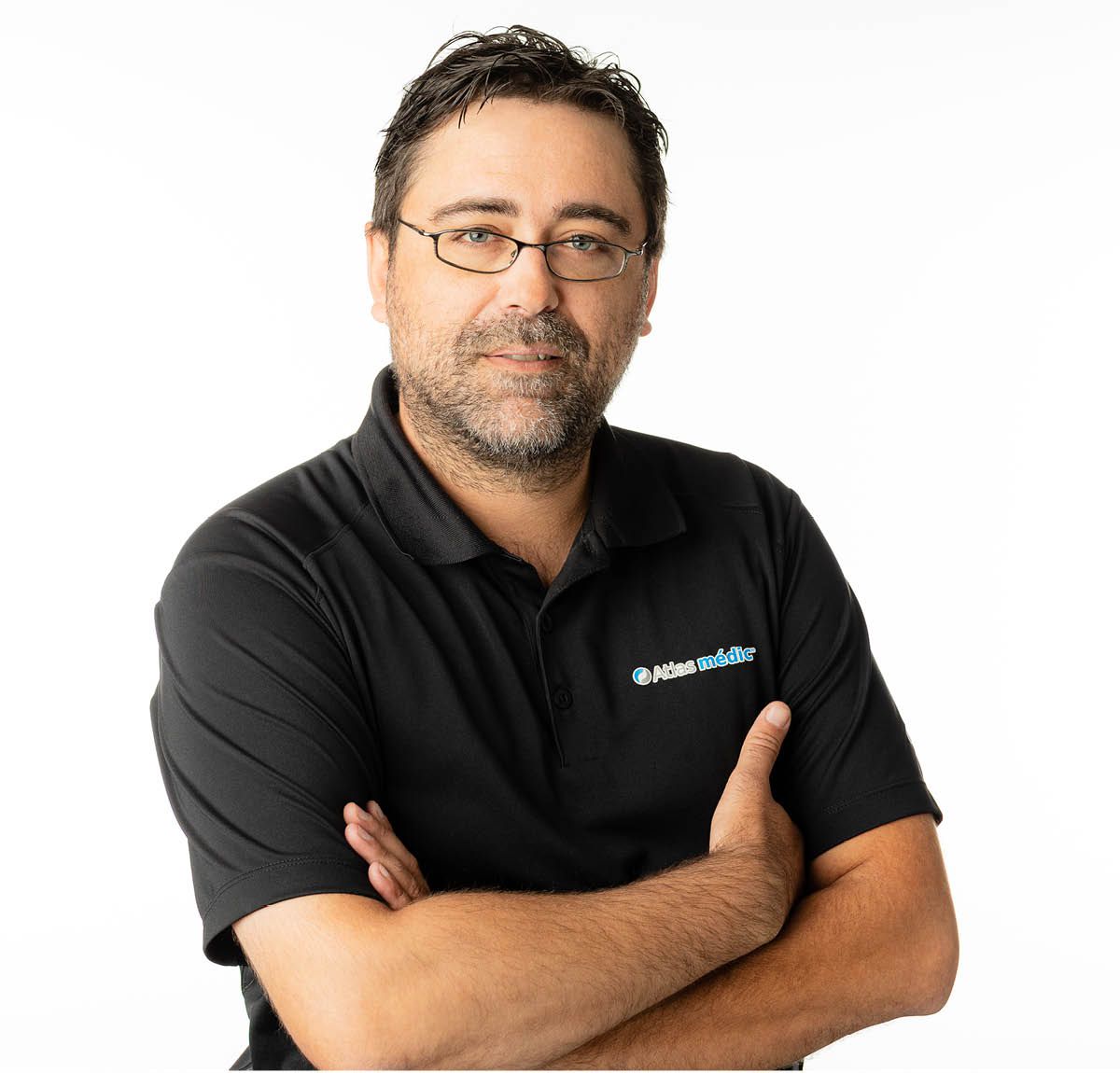 Philippe Leveille,
Logistic Coordinator
For Philippe, joining the Atlas Medic team allowed him to discover work that he really enjoys! Every day is different, and the energetic pace of his tasks allow him to constantly acquire industry knowledge. His ability to understand our customers' needs involves being meticulous and diligent in his work, and to closely monitor delivery standards
While he is not in direct contact with customers, shipping Atlas Medic orders is a crucial part of customer satisfaction that he is proud to contribute so.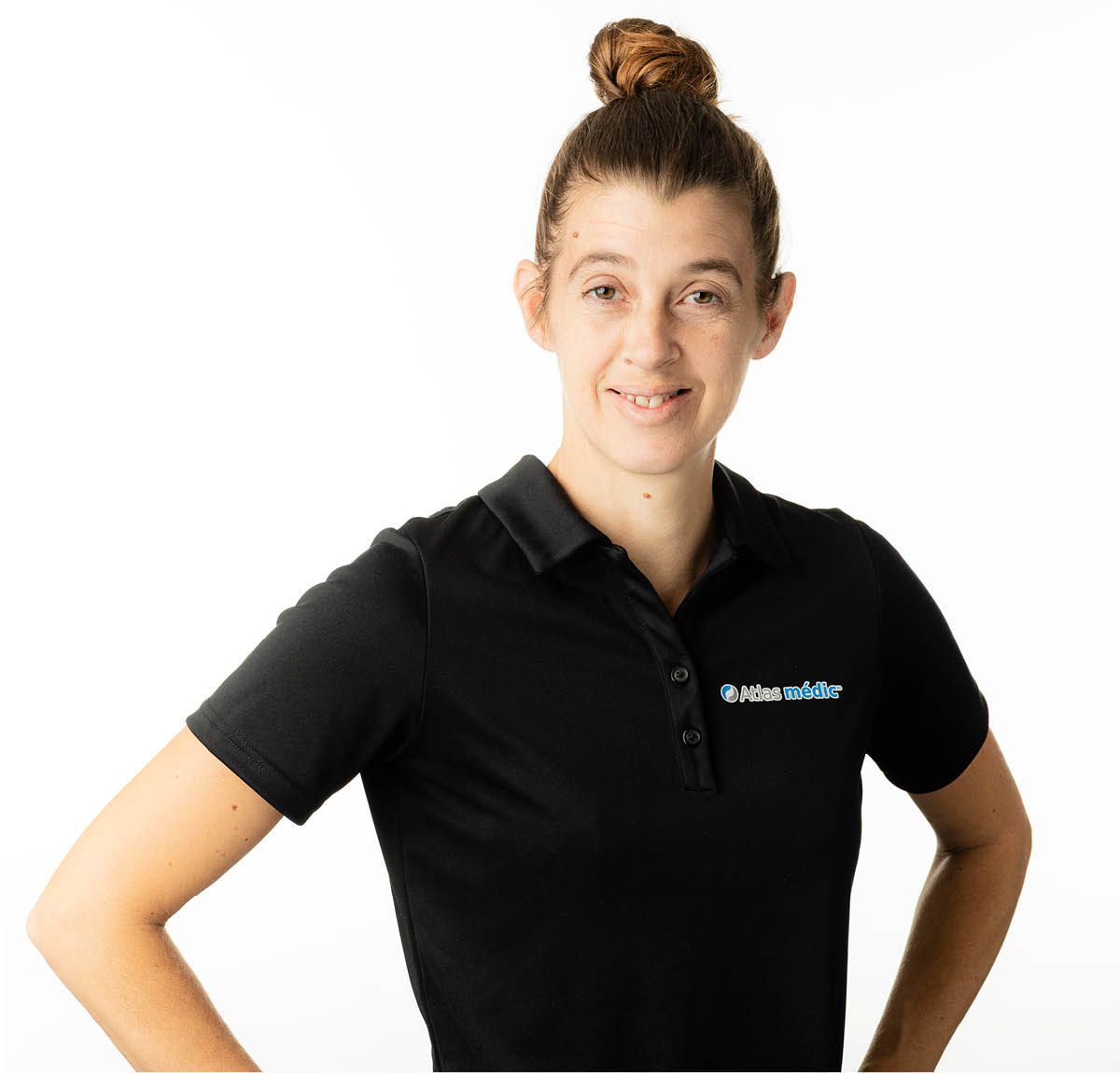 Marianne Guay,

Warehouse Clerk
New to the company, Marianne joined the logistics team. She quickly developed her manual side. Hardworking, quick and resourceful, she is always ready to learn new things.

Although she is not in direct contact with customers, she makes sure that the packages are always carefully prepared and sent on time.